Blog Archives
Event Details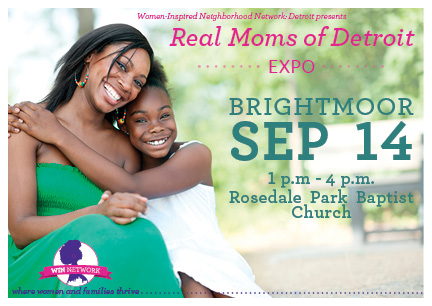 WIN Network: Detroit wants to celebrate you! Join us this summer for the Real Moms of Detroit Expo!
Saturday, September 14, 2013 from 1:00 PM to 4:00 PM
Real Moms of Detroit, check out what we have in store for you at the Expos:
Vendors with local resources in your neighborhood
Giveaways!
Beauty pampering and massages
A cooking demonstration
Refreshments
Special session for men
Games and crafts for kids
Bring the whole family! It's the summer event that everyone will be talking about!
Rosedale Park Baptist Church
14179 Evergreen Rd
Detroit, MI 48223
Saturday, September 14, 2013 from 1:00 PM to 4:00 PM (EDT)
Please register by clicking here and share this post with other metro Detroit moms!
I understand people make mistakes and I'm easy going enough to not even care when they do make a mistake, but lack of personal attention when they do make a mistake and I bring it to their attention really grinds my gears.
I've made a conscious decision not to go back to Papa's Pizza anymore because I'm just that angry with them over repeat lack of getting my order right and doing more to piss me off about the matter as well.
Now I know Papa's Pizza probably doesn't care. I may spend 15 to 25 dollars a month in the store since they opened in the New Center Area of Detroit, but dangit, I'd go order from the nasty Happy's Pizza up the street just to be stubborn about my dollars. At least I'd get my order right.
I haven't written a letter of disapproval to a company in a long time and decided to share my letter I wrote o Papa's Pizza website after just being really frustrated about the whole situation.
Here it is: 
I was truly in love with Papas Pizza when it moved over to the Henry Ford New Center Area in Detroit.
My family used to go to Happy's but Papas Pizza was so much better tasting than them.
But the last two times I've come to Papas Pizza I've been filled with frustration and lots of disappointments.
First incident was last month when I ordered 10 whole wings and when I got home, I received 10 wing dings. Even though that's what the girl charged me for, I made sure I specified 10 whole wings on the phone when I did the order twice because I remember they had done it before but I just thought it was a simple mistake.
I didn't complain back to the manager because I was just too hungry and thought yet again I should be just satisfied that the food is much better than happy's pizza.
So last night, I called in for 10 whole wings again. I didn't check the box because it was so late and I had a migraine. I did check the receipt and they charged me to 10 whole wings.
When I get home to eat and share with my kids, I see only five whole wings in the box.
I called back immediately to let them know I didn't get the right amount and the cashier took my number and said "Justin" would make sure I was taken care of in the morning for lunch. I was fine with that.
Since I was sharing I had to go to bed hungry, headachey and just miserable.
On lunch, I went to Papas Pizza (the one located on W Grand Blvd) and ordered the credited five pieces of whole wings about 11:50am. The cashier told me it would be fifteen minutes.
I sat for almost ONE WHOLE HOUR for FIVE PIECES OF CHICKEN. The cashier went back to the kitchen three times to ask for the order. By 12:30, she just came to the front disappointed and told me, "Ma'am I don't know when they're going to be ready."
As if I had no where to be!
I didn't walk out of there until 12:47 with the box of wings and all the cashier said was I'm sorry. I asked was the manager aware I waited an hour and she only shrugged before she disregarded me and started helping me with the next customer.
Sigh… I'm truly, truly disappointed at the continuous lack of mistakes in orders and this last incident just killed me internally and made me not want to go to Papas Pizza anymore.
I just wanted you to know how you lost a customer. A truly valuable customer that used to spend at least twenty five dollars a month at your place. I know that isn't a lot, but I'd rather put up with bad pizza then put up with the frustration of not getting my order right and a lack of customer service which I felt I wasn't a valued customer.
Have a good day and be blessed in all your business endeavors without me.
I'm also going to post this to my blog, foursquare facebook and twitter with over 12,000 subscribers in the Metro Detroit area; just to let you know as well.
I'm glad they make it so easy to complain, but for now, I can do without being frustrated over food. It's not that difficult folks.
Sigh… maybe I needed to cut back anyway on fast food for the children to absolutely none.