Category Archives:
Uncategorized
See What's Up with DPN this September!
Third Grade Reading Café
We're starting our next 3G series:
Linking Literacy and Social-Emotional Learning
Dr. Kimberly Leverette will continue our conversation on Social-Emotional Learning (SEL), and share books and resources that parents can use with their children to have discussions and support SEL at home.
Part 2: Wednesday, Sept 22 at 2:00PM ET
Join us on Facebook Live or on Zoom!
Check out the last recommendation from Dr. Leverette: Desmond and the Very Mean Word by Archbishop Desmond Tutu. You can also watch Dr. Leverette's read aloud of this book here. It's a great story for uplifting social-emotional thinking, especially with our boys.Watch 3G on Facebook
Mommy to Mommy
Detroit Mommies, join us for a little connection and conversation! Mommy to Mommy is DPN's support group for all mothers who need a little Me Time. Join us on Zoom every other Thursday from 10pm to 11pm.
Next Session: Thursday, Sept. 23
Please send us a message through Social Media to request the Zoom link.
We're Hiring!
We're excited to continue growing the DPN Family by hiring a diverse staff of advocates, educators, and leaders from across Metro Detroit. We welcome applicants from non-traditional work or education backgrounds, especially current and former DPN Parent Members.

Current Open Positions:Family Health Advocate: Full or Part-Time; $14-17/hrParent Engagement Associate: Full or Part-Time; $14-18/hrLearn More & Apply Today
Parenting the Love and Logic Way®:
Join Detroit Parent Network for a 7-Week Series on Parenting the Love and Logic Way®. This parenting program is designed to give you practical skills that can be used immediately! Topics will include: The Two Rules of Love and Logic®; Delayed or "Anticipatory" Consequences; Using empathy and Love and Logic one-liners to neutralize arguing; and How to get more information about Love and Logic.

Learn More: emailus@detroitparentnetwork.orgRegister for Love and Logic
DPN is bringing our next round of nutrition classes from our partners at Michigan State University Extension

Cooking Matters at Home is a FREE, 5-week course that will teach:

Proper Nutrition

Food Safety


Tips to limit Sugar, Fats, and Salt


Meals on a Budget

Importance of Physical Activity

Interested? Fill out this form and tell us what day/time works best for you!View Our Full Calendar Online at www.DetroitParentNetwork.orgInterested in Becoming a Member?
Need to Renew Your Membership?
Contact us at emailus@detroitparentnetwork.org
or visit detroitparentnetwork.org
2021 Annual Membership is only $5Programs from our Partners!

The librarians at the Detroit Public Library have put together a reading list for Hispanic Heritage Month! Celebrate and recognize the contributions that Hispanic Americans have made to the American society and culture with a great read!



Next Saturday is all about the kids! Join the Detroit Health Department at the 11th Precinct for the Safe Sleep Walk-N-Rally. A day filled with health and wellness resources like immunizations, games, food and so much more. Sept 25, 9:00-1:00.


Metro Parent has teamed up with ParentMap to deliver our first ever series of ParentEd Talks in 2021-22! Join online to hear from experts on timely issues affecting families, educators and caregivers, plus get top tips and tricks to level up your parenting game. These monthly talks will cover a variety of relevant and interesting topics, beginning this Thursday, Sept. 23 at 4pm ET with Learning From the Past: Why Educating Kids on Race Matters.

Join the Karmanos Cancer Institute Office of Cancer Health Equity & Community Engagement and Department of Family Medicine at Wayne State University School of Medicine for a webinar titled: "Detroit Community Priorities for COVID-19 Research: Results of Three Community-Engaged Projects". Thursday, Sept 30th from 6-7:30 pm.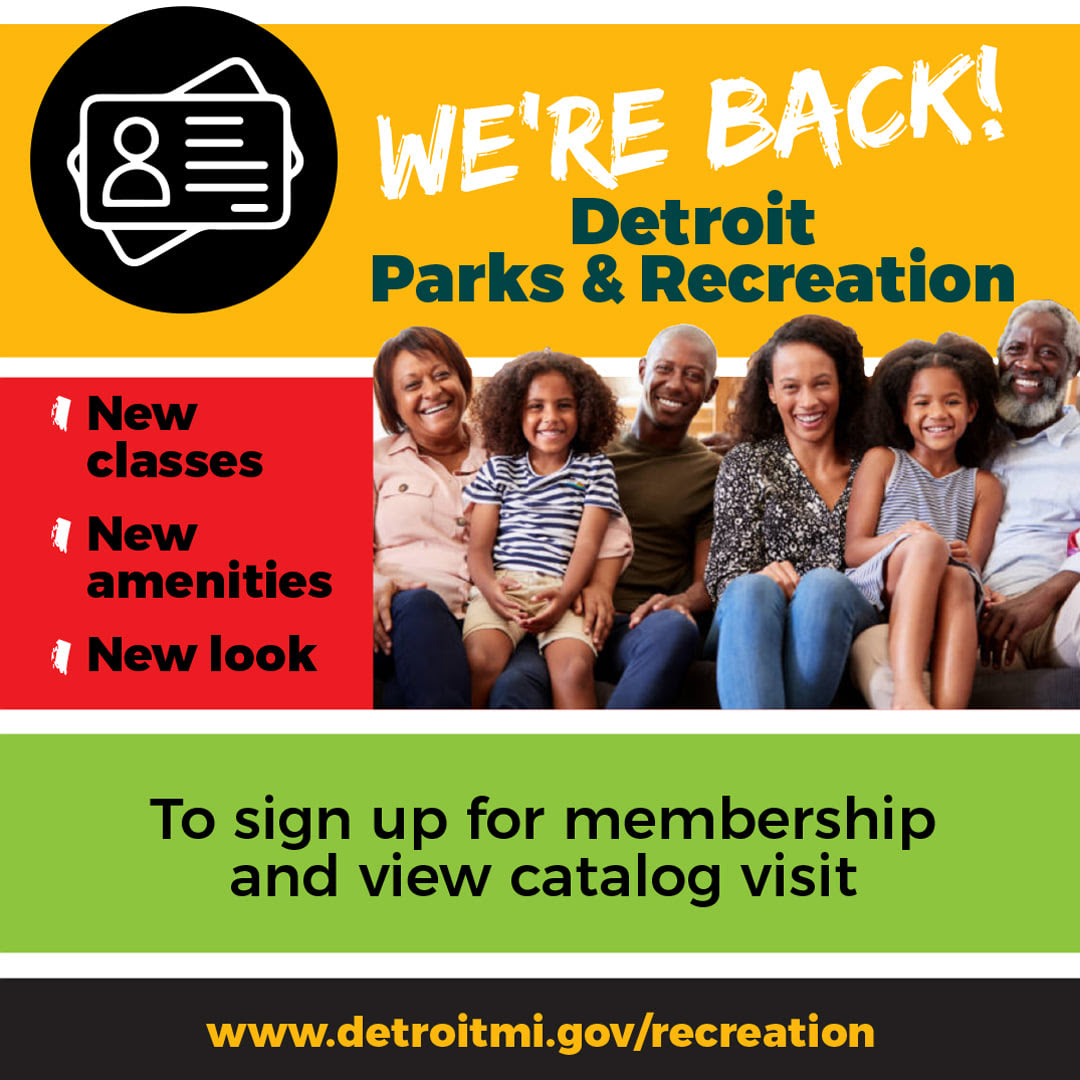 Detroit recreation centers are opening on September 20 for Adams/Butzel Complex – DPRD and September 21 for Patton Recreation Center – DPRD, Kemeny Recreation Center – DPRD, Farwell Recreation Center – DPRD, and Lasky Recreation Center – DPRD!

Register now and view the course catalog at detroitmi.gov/recreation.



Hosted by the Detroit Regional Chamber, the iconic "Mackinac Policy Conference" will take place September 20 – 23, 2021 and will spotlight three pillars for cultivating a healthy Michigan – with focus to accelerate COVID-19 economic recovery, advance racial equity, and invest in the health of people and communities. This event is where policy leaders from across the state, including government officials and local organizations, are making decisions on what are the priority concerns of Michiganders and how they should be addressed.

Watch Full livestreamed coverage of the event from DPTV here!
Members Like You
Detroit Parent Network is a premier parent organization working to empower parents, grandparents, and community members to be champions for all children. Our work depends on the support of our Members, who bring the power to our network!
2021 Annual Membership is only $5 for the year.Become a Member TodayDPN's Powerful Parent Training, Support Groups, Advocacy, and Programs are Generously Funded by: www.DetroitParentNetwork.org | (313) 263-6480 | emailus@detroitparentnetwork.orgCopyright © 2021 Detroit Parent Network, All rights reserved.
You are receiving this email because you are a member and/or friend of Detroit Parent Network.

Our mailing address is:
Detroit Parent Network726 Lothrop Rd.Detroit, Michigan 48202