Author of AbandonedProperty, Kai Mann's Writing Life & Family Support #motownmom #motownlit @kaiology #mwn
Welcome Readers to our Featured Author Blog tour for:
 Kai Mann
Author of her second release:  Abandoned Property.
Get your copy, click here.
Abandoned Property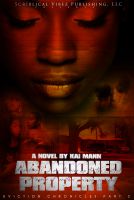 By 
Kai Mann
Rating: Not yet rated.
Published: June 09, 2013
Words: 92,516 (approximate)
Language: English
ISBN: 9780984828135
Short Bio
Kai Mann is the author of 30 Day Notice and her newly published book Abandoned Property. She is an independent contract writer forExaminer.com as Detroit's Best Friend Examiner,a member of the Motown Writers Network, and a contributor to the online poetry community.  Kai's purpose is to inspire thoughts pertaining to the themes of love, friendship, self-love, and self-progression.
Author's Website
About Abandoned Property
These characters all have something in common; they've been abandoned.
Even though their issues of abandonment stem from some of the same situations, how they play out is different in nature.
Will they go to the extreme opposite to ensure that the cycle ends with them? Or will they realize the blessings in being abandoned by people who never knew how to care for them in the first place?
Get your copy, click here.
WRITING LIFE & FAMILY SUPPORT
Writing has been a part of my life for as long as I can remember. I can't remember a time not being supported in my writing. When I was young, my mother's support began when she bought me my first composition notebook. Now, as an adult and being in a relationship, I think that my partner understands the importance of me getting thoughts and ideas out of my head. I do a lot of writing at 2 am or 3 am. That could be a problem in most relationships because I literally wake up reaching for my phone to write. I used to have a notebook and pen by the side of my bed until one day when I couldn't understand what I had written I decided to do something different. Evernote and I are inseparable now.
I use Evernote to place my wee hour thoughts there. When the thoughts are flowing faster than my fingers can type on my phone and I know that my writing may disrupt my partner's sleep, I'll get up and get to my laptop in my office. Earlier in our relationship my partner didn't understand what I was doing; the writing in the middle of the night, getting up, moving around but as I was publishing my first book she understood that was just my writing style.
My children support me and think it's cool that their mother not only writes but is a published author. It's important to me to have my children see that even at my age that you can begin your dreams, work hard, and bring them into fruition. I've since found out that my children too are writers. I support them just as much as they support me.
~~~~~~~~Please post a comment below about Kai Mann's article! ~~~~~~~~~
Get your copy, click here.
Blog Tour for Kai Mann, Author of Abandoned Property.
Books by this author:
Ways to connect to Kai Mann
About @SylviaHubbard1
AUTHOR, MOTHER, SPEAKER, JOURNALIST, CONSULTANT & MORE! Divorced Mother of three, Detroiter, Sylvia Hubbard, is not only an award winning best selling author of over 28 books, but also founder of one of Michigan's largest interactive literary community, The Motown Writers Network/The Michigan Literary Network.
Posted on July 11, 2013, in Books, Uncategorized and tagged Arts, author, detroit, Evernote, Kai Mann, motown, Writers Resources, Writing style. Bookmark the permalink. Leave a comment.